GIVEAWAY CLOSED!
It's Carnival time! This is actually the first kind of blog hop that I've ever participated in, so you'll have to excuse (and forgive =D) me, if I do anything wrong.
The Spring Blog Carnival is hosted by:
Candice @ Candace's Book Blog:
http://www.candacesbookblog/
Angela @ Reading Angel:
http://www.readingangel.com/
Lori @ Pure Imagination:
http://www.pureimaginationblog.com/
and....
Mandy @ The Book Swarm:
http://www.bookswarm.blogspot.com/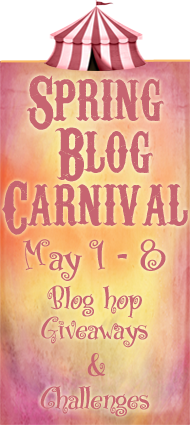 My giveaway coincides with my interview with the lovely Mayandree Michel author of Betrayal, her debut novel and the first in The Descendants series.
Mayandree is giving away ONE SIGNED copy to ONE lucky winner, and considering I've read the book (and loved it!) you're all in luck! This giveaway is open to US and Australian residents ONLY (sorry) and runs the length of the Carnival (May 1st-8th).
The winner will be picked by random.org and contacted by email shortly after that. You MUST be a follower and there are plenty of ways to pick up extra entries.
Betrayal

Where there is love and power, there is always... betrayal. At seventeen, Cordelia is an ordinary teen with an extraordinary and frightening secret. A secret that induces vivid dreams which she not only experiences true love, but crippling fear while barely escaping with her life each night. After a life altering event, Cordelia has an unexpected encounter with Evan, the mysterious boy from her dreams, who reveals who and what she is; a descendant of the Greek gods. At that moment everything she knows of her world is a lie, and she must leave the present and go into the past to assume the role she was put on this earth for; safeguarding her ancient empire amidst evil forces that toil hastily to destroy it. In a race against time, Cordelia must decide if she is truly a part of this dangerous world, or risk defying the gods, and ultimately lose the boy who has put a claim on her heart....

Sound good?
Trust me, it is. Hop on over to the interview and discover details and the form for the contest here:
http://rachybee-the-rest-is-still-unwritten.blogspot.com/2011/05/interview-and-giveaway-with-mayandree.html
And then continue on with the Spring Blog Carnival. Enter more contests, participate in challenges and just have fun....
Be sure to continue on here: